(delete templates, remove see also section dead links)

Tags: apiedit Visual edit

 

(10 intermediate revisions by 2 users not shown)
Line 1:
Line 1:
 

[[Image:Peter-som-sigg.jpg|left|150px]]

 

[[Image:Peter-som-sigg.jpg|left|150px]]

 
 
−

Honestly, the concept of disposable plastic items has got to be one of the most stupid ideas in human history, "disposable plastics are made for a one-time use as they end up as toxic [[waste]] that lasts almost forever". It's "convenient" and cheap in the short term, and polluting and cancer-causing in the not-so-short term. A shocking factoid: Americans use 2.5 million bottles every hour. Make a resolution to stop using them. It's easy. Get yourself the most fabulous [[water]] bottle you can find and carry it with you wherever you go. Concerned about water quality? Pepsi's brand of bottled water, Aquafina, is the best-selling brands of water in the country. It's tap water. Coca-Cola's brand Dasani, tap water. If we have filtered tap water at home and the office, why don't we just fill up our reusable water bottles when we're there? Much cheaper. Much chiccer. Concerned about what your friends will think if they're not doing it yet? Believe me, they will be in a few months and then they'll be so impressed about what a trendsetter you are. And with all the fabulous choices for water bottles on the market, the most difficult thing about getting into the habit of using them is picking which one you want!

+

Honestly, the concept of disposable plastic items has got to be one of the most stupid ideas in human history, "disposable plastics are made for a one-time use as they end up as toxic waste that lasts almost forever". It's "convenient" and cheap in the short term, and polluting and cancer-causing in the not-so-short term.

 
 
 
+

A shocking factoid: Americans use 2.5 million bottles every hour.

⚫

With Peak

[[

Oil

]]

on the horizon, our petroleum-based products are naturally headed OUT. Conscious and cute everyday tools are very much IN. Let's change the number one selling item at Whole Foods from plastic bottled water to stainless steel water bottles, and turn our future

[[

landfills

]]

into future land trusts.

 
 
 
 
+

Make a resolution to stop using them. It's easy. Get yourself the most fabulous water bottle you can find and carry it with you wherever you go. Concerned about [[water quality]]? Pepsi's brand of bottled water, Aquafina, is the best-selling brands of water in the country. It's tap water. Coca-Cola's brand Dasani, tap water. If we have filtered tap water at home and the office, why don't we just fill up our reusable water bottles when we're there? Much cheaper. Much chiccer. Concerned about what your friends will think if they're not doing it yet? Believe me, they will be in a few months and then they'll be so impressed about what a trendsetter you are. And with all the fabulous choices for water bottles on the market, the most difficult thing about getting into the habit of using them is picking which one you want!

−

{{Clr}}

 
 
+
−

==See also==

 
 
⚫

With Peak Oil on the horizon, our petroleum-based products are naturally headed OUT. Conscious and cute everyday tools are very much IN. Let's change the number one selling item at Whole Foods from plastic bottled water to stainless steel water bottles, and turn our future landfills into future land trusts.

−

*[[Reuable Bottles]]

 
−

*[[US Bottled Water consumption]]

 
−

*[[Bottle recycling]]

 
 
 
 

==Source==

 

==Source==

−

[http://thegreenloopblog.com/2008/07/de-rigeur-reusable-water-bottles In the green looop]

+

[http://thegreenloopblog.com/2008/07/de-rigeur-reusable-water-bottles In the green looop]

−

[[Category:Water conservation]]

 
−

[[Category:Waste management]]

 
−

[[Category:Sustainable living]]

 
−

[[Category:Air Pollution]]

 
−

[[Category:Renewable energy]]

 
−

[[Category:Plastics]]

 
---
Latest revision as of 02:11, 26 February 2015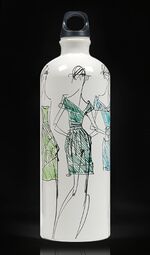 Honestly, the concept of disposable plastic items has got to be one of the most stupid ideas in human history, "disposable plastics are made for a one-time use as they end up as toxic waste that lasts almost forever". It's "convenient" and cheap in the short term, and polluting and cancer-causing in the not-so-short term.
A shocking factoid: Americans use 2.5 million bottles every hour.
Make a resolution to stop using them. It's easy. Get yourself the most fabulous water bottle you can find and carry it with you wherever you go. Concerned about water quality? Pepsi's brand of bottled water, Aquafina, is the best-selling brands of water in the country. It's tap water. Coca-Cola's brand Dasani, tap water. If we have filtered tap water at home and the office, why don't we just fill up our reusable water bottles when we're there? Much cheaper. Much chiccer. Concerned about what your friends will think if they're not doing it yet? Believe me, they will be in a few months and then they'll be so impressed about what a trendsetter you are. And with all the fabulous choices for water bottles on the market, the most difficult thing about getting into the habit of using them is picking which one you want!
With Peak Oil on the horizon, our petroleum-based products are naturally headed OUT. Conscious and cute everyday tools are very much IN. Let's change the number one selling item at Whole Foods from plastic bottled water to stainless steel water bottles, and turn our future landfills into future land trusts.
Source