By Jodi Lee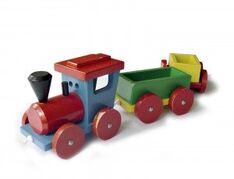 Ahhh...the wonderful slobbery kisses of a toddler. Those little people are learning to navigate the world most often using their[1] new teeth. Everything goes into their mouth. As parents, we want the best for our children and so we stock up our homes with developmentally appropriate toys, educational gadgets, fun colorful games and doodads. But have you thought about the materials used in all those mouth bound items? Do you really want your baby chewing on lead paint, toxic plastics, and chemically laden stuffies?
Here are 10 green toys for your toddler that are all available at Amazon.com:
Mini Garbage Truck If you're going to buy your child a toy truck, why not make it a recycling truck! Made from super green rubberwood trees and colored with a water-based dye, formaldehyde-free glue holds it together. (Plan Toys, $16.88)
Stacking Tree Eight pieces of wood vibrantly colored with different shades of water-based green dye. Made from rubberwood trees that can no longer produce latex, with a manufacturing process designed to reduce waste and save energy.. (Plan Toys, $23.99)
A Day on the Farm Made from sustainable hardwoods and hand painted with non-toxic, child-safe paints, these toys are built to last. If you've got a preschooler who gravitates towards plastic play sets, consider this handmade wooden alternative, complete with 11 wooden animal figures and an easy-to-assemble barn, pig-pen, and chicken coop. (Imagiplay, $26.99)
Dino Rig Go on an indoor-outdoor adventure--no batteries required! Made of an eco-friendly, thoroughly-tested material called sprigwood--a mix of recycled plastic and reclaimed sawdust. Designed in Colorado and made in Canada. (Sprig, $24.99)
Twig Blocks Blocks are the ultimate open-ended toy. They be stacked like regular blocks, they can nest inside each other, thread together, and intertwine. The 72 candy colored pieces are precision cut to fit in and around each other. Created with non-toxic dyes and renewable wood materials, and packed in a sturdy but simple cardboard box. (Fat Brain Toys, $50.00)
Tea Set Break out the goodies, this tea set is ready for action! Pb-free, BPA-free, phthalate-free, and FDA approved for eating and drinking - It's made entirely from recycled plastic, and this set is sturdy, pretty, and affordable. (Green Toys, $18.25)
Believe Polar Bear Every child needs a stuffed animal to snuggle up to, but so many out there are made of synthetic materials and dyes. This polar bear is made of organic cotton, colored with plant-based dyes, and stuffed with corn fiber. The "organic" is important here, because cotton grown traditionally is one of the most pesticide-laden crops in the world. Chemical-free cotton means it's safer for your child, and better for the planet. (Dandelion, $39.99 for the big one, $19.99 for the small one.)
8. Plan Toys Nuts and Bolts is an instant classic in sustainable wooden "tool" toys. Children love the repetitive twisting motion of threading the pieces on the bolts. It is great for developing fine motor skills. ($15.08)
Wonder world Eco-Friendly Handy Doctor Set made from environmentally friendly rubber wood and strictly using non-toxic paints, dyes and lacquers and formaldehyde free glue. This plush handy doctor set teaches lessons about healthy living – people and planets! ($27.33)
Organic Toy Crinkle Bear This darling white bear is made from organic cotton. Soft velour fabric with soothing colors and gentle crinkle noises. Encourages hand eye-coordination and learning about cause and effect. ($9.99)
For more tips on raising a green family, check out the other articles on Going Green Today. Take the free assessment and learn how to reduce your global impact while increasing your family's health.