Line 1:
Line 1:
 

[[File:Placeholder|video|right|300px]][[File:Strawberrytree.jpg|thumb|Strawberry Tree in Belgrade]]

 

[[File:Placeholder|video|right|300px]][[File:Strawberrytree.jpg|thumb|Strawberry Tree in Belgrade]]

 
+

<span style="font-size:20px;">Description</span>

−
 
−
 
−

==Description==

 
 
 
 

<p class="MsoNormal">Strawberry Tree is a public solar charger for mobile phones, mp3 players, iPhones and other portable devices which is permanently installed in public busy places such as parks, squares and streets. Through solving citizen's problem with the renewable energy solution, it aims to bring these clean energy sources closer to all people and raise environmental awareness. This innovative technology has been developed by Strawberry energy company from Serbia. It was awarded with the first place at the EU Sustainable energy week 2011 in the consuming category.</p>

 

<p class="MsoNormal">Strawberry Tree is a public solar charger for mobile phones, mp3 players, iPhones and other portable devices which is permanently installed in public busy places such as parks, squares and streets. Through solving citizen's problem with the renewable energy solution, it aims to bring these clean energy sources closer to all people and raise environmental awareness. This innovative technology has been developed by Strawberry energy company from Serbia. It was awarded with the first place at the EU Sustainable energy week 2011 in the consuming category.</p>

−
 
−
 
 

<p class="MsoNormal">So far, Strawberry Tree has been installed in nine locations across Serbia[[File:Strawberrytreeblack.jpg|thumb|Strawberry Tree Black in Belgrade]].</p>

 

<p class="MsoNormal">So far, Strawberry Tree has been installed in nine locations across Serbia[[File:Strawberrytreeblack.jpg|thumb|Strawberry Tree Black in Belgrade]].</p>

 
 
Line 25:
Line 21:
 

* [http://mashable.com/2012/01/04/innovative-solar-energy-tech/ 4 Innovative Solar Tech Projects From Around the World]

 

* [http://mashable.com/2012/01/04/innovative-solar-energy-tech/ 4 Innovative Solar Tech Projects From Around the World]

 

* [http://mashable.com/2012/12/26/urban-tech-wish-list/ 25 Technologies Every Smart City Should Have]

 

* [http://mashable.com/2012/12/26/urban-tech-wish-list/ 25 Technologies Every Smart City Should Have]

−
 
−
 
−

{{Solar energy}}

 
⚫
 
−

[[Category:Renewable energy]]

 
−

[[Category:Green Technology]]

 
−

[[Category:Green tech]]

 
−

[[Category:Sustainable energy use]]

 
−

[[Category:Sustainable living]]

 
−

[[Category:Sustainability]]

 
−

[[Category:Solar energy]]

 
−

[[Category:Renewable energy]]

 
−

[[Category:Green Technology]]

 
−

[[Category:Green tech]]

 
−

[[Category:Sustainable energy use]]

 
−

[[Category:Sustainable living]]

 
−

[[Category:Sustainability]]

 
−

[[Category:Solar energy]]

 
−

[[Category:Renewable energy]]

 
−

[[Category:Green Technology]]

 
−

[[Category:Green tech]]

 
−

[[Category:Sustainable energy use]]

 
−

[[Category:Sustainable living]]

 
−

[[Category:Sustainability]]

 
−

[[Category:Solar energy]]

 
−

[[Category:Renewable energy]]

 
−

[[Category:Green Technology]]

 
−

[[Category:Green tech]]

 
−

[[Category:Sustainable energy use]]

 
−

[[Category:Sustainable living]]

 
−

[[Category:Sustainability]]

 
−

[[Category:Solar energy]]

 
−

[[Category:Renewable energy]]

 
−

[[Category:Green Technology]]

 
−

[[Category:Green tech]]

 
−

[[Category:Sustainable energy use]]

 
−

[[Category:Sustainable living]]

 
−

[[Category:Sustainability]]

 
 

[[Category:Solar energy]]

 

[[Category:Solar energy]]

 

[[Category:Renewable energy]]

 

[[Category:Renewable energy]]

 

[[Category:Green Technology]]

 

[[Category:Green Technology]]

−

[[Category:Green tech]]

 
 

[[Category:Sustainable energy use]]

 

[[Category:Sustainable energy use]]

 

[[Category:Sustainable living]]

 

[[Category:Sustainable living]]

 

[[Category:Sustainability]]

 

[[Category:Sustainability]]

 
⚫
---
Latest revision as of 14:38, 26 February 2015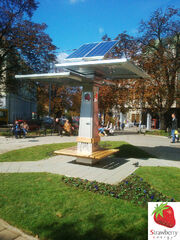 Description
Strawberry Tree is a public solar charger for mobile phones, mp3 players, iPhones and other portable devices which is permanently installed in public busy places such as parks, squares and streets. Through solving citizen's problem with the renewable energy solution, it aims to bring these clean energy sources closer to all people and raise environmental awareness. This innovative technology has been developed by Strawberry energy company from Serbia. It was awarded with the first place at the EU Sustainable energy week 2011 in the consuming category.
So far, Strawberry Tree has been installed in nine locations across Serbia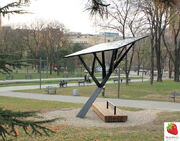 .
Purpose
Solar charger Strawberry Tree has four main purposes:
Education - showing the benefits of renewable energy and enabling sustainable lifestyle for all citizens
Helping people when they are outside with an empty battery in urgent situations
Reducing public energy consumption
Socialization - meeting place where people gather
Functioning
Strawberry Tree contains built in solar panels which transform solar energy into electrical energy which is then stored into rechargeable batteries. Thus, system can work without sunshine for more than two weeks. Cables for different types of mobile devices are built in, so users do not have to carry their own chargers. It is also the Wi-Fi spot, where people can join free network.
External links